Dr Jones recognized by Women of Optometry Magazine
Women Of Optometry Article Published October, 2017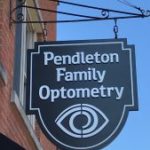 From One Kind of PD to Another
Former police department HQ now serves as optometry office
For several years, Megan Jones, OD, had considered relocating Pendleton Family Optometry in Pendleton, Indiana. Its original space, in a building constructed in the 1980s, was becoming cramped. She shared the reception area with the dentist who owned the building, and there was a serious lack of storage. Her staff had doubled, from two when she first opened 13 years earlier, to four now. Expanding in the current location simply wasn't an option due to the owner's easements and the property lines.
Dr. Jones considered her next steps. "I debated buying a lot and building, but that's expensive. I'm a mom, so I like working four days a week," she says. "I didn't want to be tied to a building forever." Moving to an existing space seemed like the best choice, but she hadn't found the right location—until by chance, a patient brought an opportunity to her attention. "The former Pendleton police department on our main road, just one block away, was available." After touring it, she decided it was a perfect match.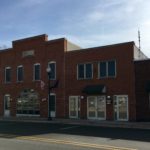 The space before renovations
Dr. Jones hired a construction team to remodel the entire space, tearing down every existing interior wall to make the office exactly as she envisioned. She doubled her office space in this move to more than 2,000 square feet, and the team put up walls for three exam rooms; two of them equipped for now. "It's more of an open concept than the previous office with better lighting for patients as they enter and are viewing frames," she says. She chose a classy style with neutral colors on the wall and darker trim. The carpeting offers pops of color, and Dr. Jones worked with Eye Designs to select her final design, including frame boards. The main floor is all of the clinical and public space, while an area upstairs gives her plenty of room for storage and additional office space.
The process, from purchasing, inspections, construction and opening the doors, took about a year. Dr. Jones officially made the move in February after closing the office for just a week. Patients have been thrilled with the new space, she adds. "Everyone really loves it. It's an updated look that's brighter with the natural sunlight coming in." She added more computers and a new visual acuity projector when she made the move, and Dr. Jones says that she's looking to bring in a new OCT and retinal camera later this year. "We wanted to live in our space and see how processes worked so we knew how to and where to implement new instrumentation," she explains.
Looking back on her experience, Dr. Jones offers this advice: "Be patient until the time is right," Dr. Jones says. "Everyone wants a new office, but we decided to remodel instead of build brand new. In the end, it's been well worth it, and it's worked for us."
After all, Dr. Jones has let the perfect timing lead the way for much of her career. She had originally planned to join her father Jerry Lamberson, OD, in his New Castle practice following her graduation from optometry school. His passion in the profession had inspired her to pursue optometry. But the economic situation wasn't ideal when she graduated in May 2004, and he already had one associate OD in the office without room for more.
So Dr. Jones joined Pendleton Family Optometry following her graduation with plans to eventually take over from the former owner, who was dealing with some health issues. What Dr. Jones thought could take years ended up being just months, and Dr. Jones became the owner three months after she graduated. "It was a smart choice, but I was 25 years old, so now I wonder what I was thinking," she says, laughing.
And when her father retired from his own practice in 2015, the time was finally right for father and daughter to work together. Dr. Jones welcomed Dr. Lamberson into her office where he works one day a week.